Mediation & Dispute Resolution Services
AMS Mediation provides a variety professional alternative dispute resolution services for divorce, custody and separate parenting. Our superior services are efficient, effective, respectful, informative, and non-judgmental. Ms. Serwat's client-centered process empowers individuals to achieve fair, affordable, and workable solutions which satisfy their unique needs and circumstances. Two key components of Ms. Serwat's philosophy are conserving financial resources and developing successful Parenting Partnerships.
Regain control of your life and protect your future by selecting a divorce or parenting process which respects your sense of fairness and prioritizes your family's well-being. Real success is possible – it takes hard work, dedication and some solid professional assistance. Please contact Ms. Serwat to discuss how her services may benefit you.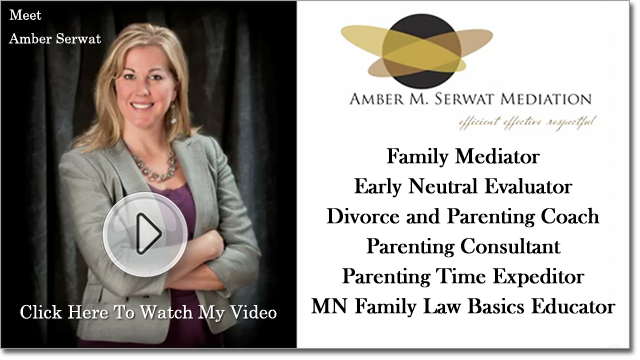 Ms. Serwat provides the following services for both self-represented parties and parties working with attorneys:
"Amber is an amazing mediator! She made what could have been a very difficult situation more comfortable as she guided, mediated and led us to compromise and agreement while keeping our children, what should be most important, the main focus."
Tamara C. – Dakota County