Custody mediation is a process which allows never-married parents to resolve custody, parenting time and child support issues in less time, with less conflict, and with significantly less expense than the traditional legal process and litigation.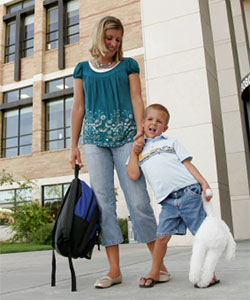 Benefits of a Mediated Custody Settlement:
Significantly controls costs, both financially and emotionally
Opportunity to be creative and address important non-legal issues
Benefits children by reducing conflict
Establishes a foundation for effective co-parenting
Mediated agreements tend to be more satisfying than imposed court orders
Confidentiality
Focuses on the present and future, not the past
You may be surprised to know that most MN custody cases (over 90%) are settled before they ever reach a court room. Mediation is so effective that the State of Minnesota requires you make a good faith effort to resolve your custody issues through Alternative Dispute Resolution (ADR) before appearing in Court – so why not start with a process which is proven to work as well, if not better, than litigation?
To read about state ADR requirements, take a look at the ADR in the MN State Court System brochure.
Three Components of a Custody Settlement:
Legal and Physical Custody Designations
Parenting time (visitation) and other important parenting agreements
Child Support
Follow this link for information about Minnesota law: MN statute.
Custody mediation allows you to discuss these important issues in a safe and constructive environment. It also allows you to easily exchange the documentation necessary to verify income and child related costs such as health insurance and/or daycare. Mediation is not a way to side-step the law, it is a process which allows you to control your own future and ensure the best possible outcomes for you and your children. Click here for Mediation FAQs.
Although many of Ms. Serwat's clients reach a complete custody settlement without retaining an attorney; some need and/or want legal representation. If your situation warrants legal representation or if you simply feel better knowing that you are legally represented your lawyer is welcome to participate with you in the mediation process. Starting custody mediation without attorneys in no way limits your right to retain an attorney in the future and/or appear in court.
SUPERIOR SERVICE: All mediators are not created equal! Although mediators are not decision makers, they do have a significant impact on your divorce process. Mediators set the tone and guide you through the rough patches. Therefore, it is wise to interview mediators and select one who respects your sense of fairness, recognizes the importance of self-determination, helps generate creative solutions and facilitates workable agreements.
FREE CONSULTATIONS: Ms. Serwat welcomes the opportunity to meet you and answer your questions about custody mediation. Please call to schedule a free one-hour consultation. During this joint consultation with your parenting partner you will learn how Ms. Serwat's mediation process would work for you, your parenting partner, and your unique situation.