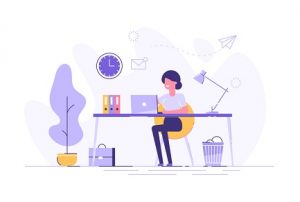 As we all adjust to life during the pandemic, changes are all around us. While some things are starting to get back to the old normal, it is a good time to assess which things you adapted to that you might want to continue. For many of us, working from home was a huge adjustment, but allowed for greater flexibility, time with family, less travel time and less money on things like gas and eating out.
As the fall and winter months arrive, many will remain at home for work, but many of us are more than ready for our kids to get back into in-person school. Shopping online has increased – for groceries and other necessities and curb-side pickup is now standard at most stores. Rather than focus on all that we have lost during these last 15-18 months, we are working to help families focus on some of the more positive aspects of these changes.
Online Mediation Services During COVID-19 And Beyond
AMS Mediation has shifted much of our divorce mediation and parenting support services to online offerings, allowing families to tackle these issues from the comfort of their own home, rather than meeting at an office to discuss. Mediation is an ideal way to settle the terms of a divorce and is equally effective virtually as it is in person. Virtual mediation has many important benefits including:
Flexibility: Rather than having to build in travel time, traffic and a set start and end time, virtual mediation can be flexible for what is best for you and your schedule. Setting up an appointment with the team at AMS is easy and can often be handled by email. All you need is an internet connection and a computer or mobile device.
Confidentiality: One of the downsides of litigation is having to discuss the intimate details of your marriage in front of a judge, court staff and others who may be there for their cases. Mediation gives you privacy and confidentiality and often empowers couples to be more honest and open during the process.
Comfort: You can literally settle the terms of your divorce in your own home, on your own coach, while dressed in your PJs! In all seriousness, keeping our clients comfortable can be very helpful for the process, reducing tension and conflict.
Time Saving: Mediation saves you time. A court battle can drag on for many months, but you can reach resolution on your case in a matter of weeks with divorce mediation.
Less expensive: Mediation is also significantly less expensive than proceeding through the courts as you are not required to hire attorneys and pay their hourly fees.
Trusted Mediation Services in Minnesota
If you are interested in seeing if online mediation services might be the right avenue for you to navigate your divorce, call us today at 952-252-1492 or email gayle@amsmediationplus.com.