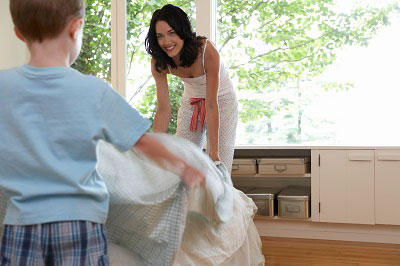 It is a somewhat common myth that the court system favors the mother in divorce custody disputes. These assumptions are based on the long held tradition that mothers are, generally speaking, more often the primary caregivers for the children in a family. Today, however, it is just as common for mothers to work outside the home and child custody agreements are based on what is in the best interest of the children, not on who spends more time at home. US law does not give preference to mothers in child custody cases — there is no gender preference in custody cases. However, it is important to understand the law and your legal rights. Parenting mediation is an excellent and highly effective strategy to manage all aspects of settling a divorce, including child custody issues. AMS Mediation of Burnsville, MN specializes in parenting mediation and can help you and your divorcing spouse find solutions that work for everyone involved.
Parenting Mediation To Settle Divorce
Settling issues of parenting time and child custody can be extremely difficult and filled with emotion, grief, loss and anger. Deciding to separate or divorce in most cases means that you will inherently see your children less, since you are no longer all living under one roof. Battling in the court system can make a difficult situation even more adversarial as the courts are not set up to think about creative solutions, or to manage ongoing parenting conflict.
Parenting mediation allows you and your divorcing spouse a safe and productive environment to discuss a wide variety of difficult issues surrounding child custody, division of assets and debts and spousal support. Rather than putting your fate in the hands of the court, you can help to shape your future and offer creative solutions for your unique situation that a court would simply not be able to offer. A parenting mediator will not make these important decisions for you but will facilitate positive and productive discussion that can help you put your children first.
Resources For Divorcing Couples
AMS Mediation, led by Amber Serwat, is located in Burnsville, MN and specializes in providing many types of resources for couples that are struggling with divorce. The experienced team offers parenting mediation, divorce mediation, parenting education classes, a parenting coach and/or a parenting consultant (PC). She also offers a free one hour consultation to discuss the specifics of your case so that you can find the resource that will be most beneficial for your unique situation and your family.
There are many myths about the laws related to child custody and divorce. A parenting mediator like AMS Mediation can help you make sense of the state laws of Minnesota and give you tools to navigate your divorce with less stress and a more positive outcome. Call 952-252-1492 for more information.
Also Read: Key Factors Considered When Determining Custody Rights