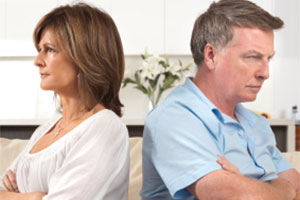 If you go through the traditional court system, you should expect a divorce to take anywhere from 6-12 months. During this process, you spend a lot of time waiting for the next step, waiting for schedules to align between the court and the attorneys. In fact, there is a lot of time wasted, that keeps you from being able to move forward with your life. Divorce mediation allows you to settle the terms of your divorce much more quickly, and for less money as well. Instead of waiting six months to a year, you can settle the terms of your divorce in a matter of weeks. AMS Mediation specializes in divorce mediation services and can help you navigate your divorce quickly, even if it is complex and/or high in conflict.
Virtual Or In-Person Divorce Mediation Services In MN
During the COVID-19 pandemic, AMS Mediation has made the divorce mediation process even more efficient. We now offer mediation virtually – all you need is a computer or tablet and an internet connection. You can make decisions about your divorce like how you will separate your joint property, how your kids will split their time between you and your ex, and whether or not child support and/or spousal support is necessary, all from the comfort of your own home. Virtual mediation was a necessity during COVID, when it was not safe to be in close proximity with those who did not live with you. But even as cases are down and we can safely gather, many couples are still choosing virtual mediation as their preferred option. We also still offer in person mediation services as well if you prefer.
Experienced Divorce Mediator In Minnesota
Amber Serwat, founder of AMS Mediation, believes that divorce can be efficient and lower emotional and financial stress. She has worked hard to build a mediation practice that focuses on helping families navigate divorce in a healthier way. She understands the Minnesota divorce process, can guide you through it step by step so that you can focus on helping your family heal. You should know that Amber will not make the decisions about your divorce for you, but will serve as a neutral third party to facilitate discussion between you and your ex. You will be the ones making the decision, but our team will help guide you, keep you focused and keep the communication positive and productive. For more information about settling your divorce more quickly than a traditional court battle, give us a call at 952-252-1492 to schedule a free, no obligation consultation.