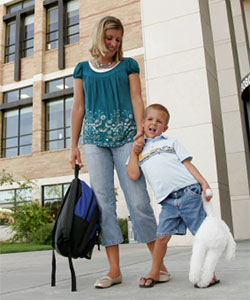 A guiding philosophy of AMS Mediation is to provide divorce coaching that is child-centered.  This means that the support we lend to a couple we are coaching will be based on ensuring that your children are prioritized in the divorce process.  Children are innocent bystanders in their parents' decision to get divorced, and because they are so much more vulnerable to the complexities and difficulties of adult life, we owe it to them to center the divorce process on their well-being.
Divorce Coaching Support
One of our primary goals is to communicate to people who are going through the difficulty of divorce that they are not alone.  Our team offers the important service of Divorce Coaching to help you make the best possible decisions, find your own resiliency, and move on as quickly as possible to the next chapter of your life after divorce.  A divorce coach works with only one spouse in a divorcing couple.  When you work with AMS Mediation's divorce coach, you partner with a professional who has expertise in the legal process of divorce and is committed to ensuring that your kids are the priority in your decisions.
Divorce coaching offers you individualized attention and support.  Our coach works with you only, so you know that your interests are of primary concern.  We offer the kind of objectivity that friends and family members generally cannot provide. They are understandably biased in your favor and lack the objectivity and distance that a divorce coach must have.  This is especially true when children are involved and affected by your divorce.  It is necessary to have an invested third-party professional offering insight and advice based on prioritizing the long-term health and welfare of your children.
Navigate Divorce with Your Kids in Mind
AMS Mediation's divorce coach will help you move on with your life following divorce.  The stress associated with divorce can dominate the lives of the people who experience it.  Our divorce coaching service, however, can help you get move forward with your children providing the inspiration.  The help that a coach can provide you and your children during divorce can make the difference in how you proceed through to the next chapter of your lives.
If you are looking for help from a divorce coach, and if you have children who will certainly be affected by the divorce process, AMS Mediation is an exceptionally good resource for you.  Call us at 952-252-1492 for a free consultation.