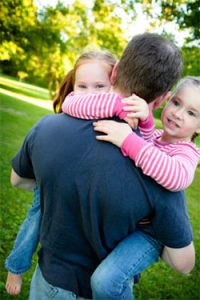 AMS Mediation is known for providing divorcing couples with excellent mediation services. We have helped many couples avoid the expense, stress, and greater length of time associated with court-based divorce proceedings. In addition, we have given those divorcing couples a greater chance to resolve their disagreements. By avoiding conducting the divorce in a courtroom, we save families time, stress, and money, the latter of which can be put to use in the next chapters of their lives. Divorce mediation is the most frequent process that our clients use, but it is not the only mediation process that we can offer to divorcing and divorced couples. We also offer Custody Mediation and Post-Decree Mediation. Because of what we faced in 2020, we now offer online mediation and coaching services.
Custody Mediation
Children are the innocent bystanders in divorce cases. Regardless of their age, for most couples, the safety, security, and well-being of their children is paramount. This can be a source of heightened conflict between divorcing adults. However, very often when a divorcing couple works with our team, the potential exists for the children to serve as the best motivators to resolve the conflicts that exist between the parents. AMS Mediation is very good at helping the divorcing parents to more fully understand and empathize with their parenting partner. If both parents have the welfare of their children in mind` and are committed to continuing the practices that provide safety, security, and well-being, the chances of an amicable divorce increase. Not only should children be protected at all costs, they can also serve as inspiration for their parents to resolve the conflicts that exist between them.
Post-Decree Mediation
You have likely heard some variation of this statement: "Divorce ends the legal part of marriage, but it rarely ends the relationship." It is quite likely that divorced couples who reach agreement on custody of their children will remain in some degree of contact, even if the contact is only indirect. Many divorced couples remain in close contact, and some even become good friends following the finalizing of their divorces. But even the most amicable of post-divorce relationships can require post-decree mediation. Many couples find that their agreements need simple adjustments that require the help of our staff. The higher the degree of conflict that arises after divorce, the greater the need for assistance from AMS Mediation.
Call us 952.252.1492 to schedule a time for a free consultation to see what mediation services might best meet your needs.