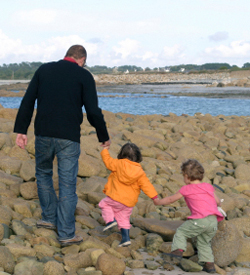 If you and your spouse cannot decide how best to settle the terms of your divorce, the court may recommend that you work with a court approved divorce mediator rather than continue through the courts for resolution. Ultimately, this can be a huge benefit to you and your case, as mediation is a highly effective way to settle your divorce more quickly and with less financial strain than traditional litigation. You and your spouse will be able to choose a divorce mediator in the Apple Valley, MN area, approved by the court system – and if you are looking for a court approved female divorce mediator, Amber Serwat is be a great choice.
Female Divorce Mediator in Apple Valley, MN Area
Amber Serwat of AMS Mediation brings extensive professional and personal experience to each divorce mediation case. Even if you have concerns about whether the mediation process will work for you, she can answer your questions, guide you through the process and explain the many benefits of divorce mediation for your case. You should know in advance that a divorce mediator does not make specific decisions in your case but facilitates a series of discussions that encourage you and your spouse to make these decisions on your own, with your family's best interest at heart. This may seem unrealistic to you at first given potentially high conflict, but Amber encourages you to have an open mind about the process and you may be surprised how successful it can be.
Divorce mediation allows you to regain control over your life and find a way forward, rather than focusing on all of the conflict in your past. As your court appointed divorce mediator, Amber can help you settle issues like dividing your joint property in a fair and equitable way, determining a custody arrangement that puts your children first and deciding whether spousal support is necessary in your case.
Dakota County MN Divorce Mediation Services
As a female divorce mediator, Amber brings a unique perspective. She has been through a difficult divorce herself so she truly understands how difficult this process can be on a family. She also brings compassion, competence and knowledge of Minnesota divorce law. You can trust Amber to guide you honestly and efficiently through the divorce process so that you can find resolution and peace.
If the courts recommend that you work with a divorce mediator to settle certain aspects of your case, look no further than Amber Serwat for assistance. She is a court approved female divorce mediator that can help you. Call her at 952.252.1492 to schedule a time for a free consultation.