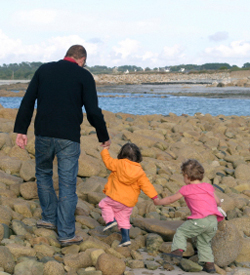 Making the decision to divorce is difficult, especially if you share kids. There are many decisions that you need to make with your soon to be ex-spouse about custody, parenting time, child support, educational priorities, holiday time, and other issues that may be unique to your family. Rather than leaving these major life decisions in the hands of a judge, it can be much more positive and productive to partner with a mediator to resolve these important decisions. AMS Mediation is a Dakota County family mediator who specializes in helping families navigate the divorce process with less emotional and financial strain.
Why Choose Family Mediation?
One of the goals of family mediation is to help you and your divorcing spouse keep the needs of your children as a top priority during the divorce process. Child focused mediation is an excellent and effective way to resolve a wide variety of issues about how life will be after divorce. Custody and parenting time are often the most difficult issues to resolve in a divorce. The team at AMS Mediation can offer strong support for this process, offering you information about resources, Minnesota law, and creating an environment where you and your partner can find ways to resolve the issues between you. Family mediation can also take into account the wishes and preferences of your children, if they are old enough to express them.
There are many benefits to pursuing solutions using family mediation, rather than litigation. Generally, mediation actually reduces the overall conflict that you are feeling about the unresolved issues. It focuses on compromise and cooperation, rather than creating a win/lose dynamic. You are also allowed to think about flexible solutions that may be unique and specific to your family, rather than following a template for a divorce settlement that is set by a judge. The court system is not set up to handle each and every issue that comes up during and after a divorce. When you partner with a Dakota County divorce mediator like AMS Mediation, you can be confident that you will have a resource as you finalize your divorce and for all issues that come up after your divorce is final.
Experience Family Mediator in Dakota County
Amber Serwat of AMS Mediation has more than a decade of experience helping families get through the difficult divorce process. She has extensive professional experience as well as personal experience with her own divorce. This gives her knowledge, compassion and a commitment to your family. For more information about family mediation or to schedule a time for a free consultation, call 952-252-1492.