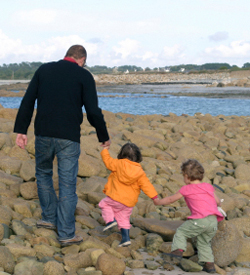 It is not uncommon in the United States for couples who know their marriage is failing to decide that it is better to stay together because they have children. In many ways, the drive to stay together in a marriage that is not working is admirable. It is an indication of commitment to the little people who have added purpose and meaning to their parents' lives. But, for the vast majority of those couples, staying together in a marriage that is a marriage in name only is untenable and can sometimes be unhealthy. AMS Mediation can help couples in such situations by building on the love they have for the children and easing them into the next chapter of their lives.
Putting Your Kids First In A Divorce
When parents realize that divorcing could actually be more beneficial to their children, a burden is lifted, and hope is renewed. Divorce mediation is a service that provides information ranging from the legal aspects of divorce to the practical aspects of how to co-parent with a former spouse. The experience we bring to the divorce mediation process creates confidence in the divorcing couples with whom we work. And that kind of confidence is irreplaceable when the divorcing couple prioritizes the well-being of their children.
Divorce mediation is an ideal alternative to the more traditional understanding of divorce, which historically has taken place predominantly in the courts across this country. With a growing population and a divorce rate that has been rising for decades, the courts simply cannot handle the demand any longer. Divorce mediation is an outgrowth of the need to process the number of divorces that the courts can no longer handle, and the profession has grown because of the effectiveness of the process. Because divorce mediation focuses on solving problems and identifying common ground between the divorcing individuals, it has become an ideal service to ensure that the welfare of the children of divorcing couples is addressed.
Minnesota Divorce Mediation Services
There are other benefits too. Divorce mediation does not involve attorneys, so there is no adversarial motivation involved in the process. The divorce mediator is motivated to help you understand your perspectives, and because of our objectivity, we can point out aspects of common ground that may be less obvious to you and/or your spouse.
Divorce mediation tends to be significantly less costly than divorces that involve attorneys and take place in the courts. AMS Mediation is an experienced and trusted divorce mediation firm that provides in person and online mediation sessions to couples all over Minnesota. Call us at 952.252.1492 to schedule a free consultation.