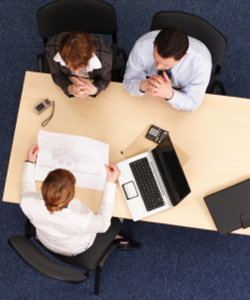 If you are coming to the conclusion that your marriage may be coming to a sad but necessary end, consider seeking the support of AMS Mediation of Burnsville, Minnesota.  Divorce mediation is becoming an ever-more popular means of proceeding through and finalizing divorce, and no divorce mediation service offers you a greater combination of professional expertise, legal knowledge, and interpersonal empathy than AMS Mediation.
Divorce Mediation Support To Process Divorce And Move On
AMS Mediation is a highly regarded divorce mediator in Burnsville.  With years of experience—in both the personal and professional realms—AMS Mediation will help you process your divorce and find the best means to move on from it.  Finding the best means and then moving on is the desired outcome of AMS Mediation's approach to divorce mediation, but the staff also understands that divorce is a process, and that the process is different for every individual.  On rare occasions, a person going through a divorce might already have done the majority of processing necessary to move on.  But for many people, divorce is painful for a period of time that requires attention and energy, each of which can be difficult and exhausting.  But AMS Mediation's knowledge of this range of responses works to the advantage of all who seek their help.
Experienced Divorce Mediator in Burnsville, MN
And by way of recommending approaches to your divorce, AMS Mediation encourages all who seek their services to consider the following points about the experience of divorce.
Count on others – Count on people in your life who support you on your terms—people who will be honest with you but won't push you to respond only as they would.
Get help – Consider seeking help from a qualified professional (such as AMS Mediation), or a trusted acquaintance like your pastor, a counselor, or life coach.
Enter with a clear head – Before you enter divorce proceedings, console yourself with the knowledge that you've done your best to save your marriage. If you have, you can feel better sooner about moving on.
Write about your experience – Journaling can be a wonderful tool for insight.
Share your concerns with your spouse – In other words, don't surprise your spouse with the news that you want a divorce. This will be a sign that you will be fair throughout the process.
Be honest – If you are honest with yourself about your motivations for seeking divorce, you will have the luxury of populating your life with people who support you unconditionally. If that honesty is in place, people who are judgmental or unsupportive will likely not be serving your best interests.
Forgive yourself and be kind to yourself – Divorce is not easy, but you must also remember that you're not alone. We all make mistakes, even in something as high-stakes as marriage.
If you live in or near Burnsville, MN, definitely consider AMS Mediation.  Call 952-252-1492 or email amber@amsmediationplus.com for more information or to schedule a time for a free consultation.