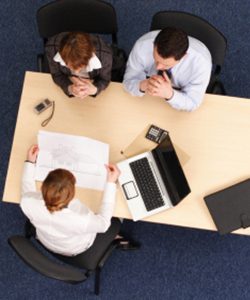 If you and your spouse are looking to minimize the stress and pain associated with your decision to divorce, consider the divorce mediation services offered by AMS Mediation.  We are experts in divorce mediation, including all aspects of Minnesota divorce law. Divorce mediation has many advantages over the more well-known alternative, the court-based divorce process.  First, mediated divorce controls costs far better than court-based divorce proceedings, which almost always require that each person hire an attorney to represent them in the proceedings.
Benefits of Divorce Mediation
Couples who opt to work with a divorce mediator share the services of the mediation professional.  Because both parties are represented by one mediator means that the couple starts at a point of cooperation with an emphasis on reducing or eliminating conflict.  In most court-based divorce proceedings the process has a better chance of becoming adversarial, which by definition means an increased likelihood that conflict can increase as events proceed.
One of the primary motivations of a divorce mediator is to help you emerge from the divorce process better prepared to move into the next chapter of your life.  If you and your spouse have lingering, unresolved conflict between you, moving into the next chapter will be more difficult, if not impossible, to do. AMS Mediation works with you and your spouse to identify the sources of conflict.  We then implement our knowledge of mediation so that you can begin the process of finding solutions to the conflicts between you. AMS Mediation simplifies the divorce process. Of course, 'simple' does not necessarily mean 'easy' but simplifying is a good start.  We can help you see that there may be solutions where none seemed possible before.
Settle the Terms of Your Divorce with Less Stress
Couples who take part in divorce mediation typically find—and with AMS Mediation they definitely find—that the mediator indicates a focus on finding common ground and working toward solutions.  This can alleviate the stress you feel immediately. It can feel like light at the end of the tunnel, and better still, it is a genuine feeling of hope. The benefit of having an impartial third-party offer objective information in the form of possibilities can be liberating.  And from there, we can help you and your spouse proceed to the next chapter in each of your lives.
Divorce is almost never easy, especially if you have complicated financial circumstances and/or children. AMS Mediation can help you get through it, and we believe that the chances are good that you will feel better about the possibilities of resolving differences when you work with us.  Call us at 952.252.1492, send an email to lynn@amsmediationplus.com, and we will be happy to talk more with you about the divorce mediation process.