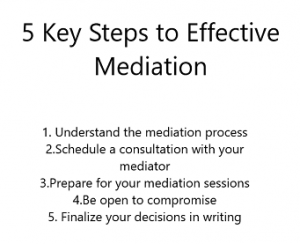 The divorce process is overwhelming by any standard. It is difficult emotionally, financially and logistically, especially if you share children. Making the difficult decision to divorce is the first step toward building a new life for yourself. If you are unsure about how to get started with the process, our team is here to help. AMS Mediation offers a free one-hour consultation for couples who are looking for more information about the divorce process. During this consultation, we can go over a lot of information with you, answer your questions and help you determine if mediation is the best next step for you. Here are some of the common questions that we will cover in the initial consultation:
● How long should we expect the mediation process to take?
● How much should we expect mediation to cost us?
● What is the specific role of the mediator?
● What types of issues will divorce mediation help us resolve?
● Are there issues that mediation cannot resolve?
● Do I need to hire a lawyer for the mediation process?
● Do we need a judge to be part of the settlement process?
● Can mediation determine child custody and the need for child support payments?
● How do I decide between mediation and litigation?
Deciding if Mediation Is Right For You
Every divorce is unique and the answer to each of these questions may depend somewhat on your situation. Our job is to sit down with you and listen to your questions and concerns and tailor a mediation approach that will work best for you. It is important to understand that a mediator does not make the decisions about how to settle your divorce. In fact, this part is really up to you. Your mediator will guide you through all steps of the process and provides you with a positive and open forum for discussion. Mediation is a cooperative process that values your knowledge of your unique situation. When you work with Amber Serwat at AMS Mediation, you will realize that you are the best ones to make decisions about your future.
Divorce Mediation Free Consultation
Taking the first step toward divorce is difficult. There is no way around that – but our team can make the process easy to understand and straightforward. Setting up a time for a free consultation does not commit you to moving forward with us, there is no pressure to move forward unless it really makes sense for you. For more information or to schedule a time, call us at 952-252-1492.