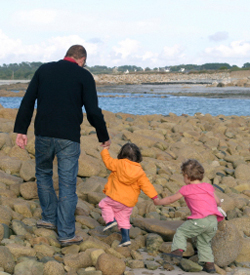 If you have recently been through a divorce or are separated from your spouse and are navigating the process now, the idea of the upcoming holiday season may be very stressful. The first holidays during or after a divorce can be especially difficult for families with kids, as they adjust to a life of sharing custody. Here are 5 tips for making it through the holiday season and making the best of your new situation this year:
5 Tips For Your First Post-Divorce Holiday Season
Create new traditions: Holidays are rich with traditions, which is part of the reason they evoke such an emotional response during and after divorce. You can literally think back about other holidays in your past, how you spent them. Now is the time to create new traditions, not to erase your old ones but to build new ones for yourself and your new life.
Focus on your kids: As adults, you and your ex understand what has happened and the change it brings. Your kids did not have a part in the decision-making process, so it is important to make sure that they understand that they can have a happy and safe holiday season even after your divorce. Include them in the holiday planning this year and build a new tradition together.
Acknowledge that this year will be hard: Rather than feeling guilt over the divorce and the changes to the holidays, acknowledging that the situation is difficult can provide some relief for you and your family. Setting realistic expectations for the first holiday apart will help you.
Surround yourself with friends and family: When your kids are not with you, it is very important to stay busy. Surrounding yourself with friends and family, volunteering your time, exercising, finding a new hobby are all great ways to keep yourself occupied during this unusual time.
Self-care: Do things that make you feel good. Whether that is coffee or tea, a bubble bath, a pedicure or a hike in the woods, schedule time for yourself during the holidays that is doing exactly what you want to!
Divorce Mediation to Help Sort Out Holiday Schedule
The holidays are difficult for families who have just been through a divorce. If you are navigating the process and need help negotiating the details, divorce mediation is a useful tool. AMS Mediation can help you navigate the divorce process and put a schedule in place for the holidays that works for your entire family. For more information, call us at 952-252-1492.