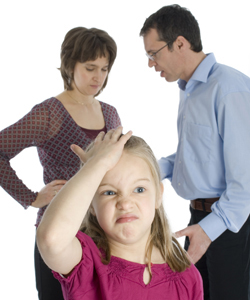 When you are unhappy in your marriage and kids are involved, you have to wrestle with many complex and difficult questions about what is best for you and your family…whether it is best to stay together despite the unhappiness or separate and move toward a divorce. There are many very personal and unique factors to consider in each case and many emotions to process, but here are some things to consider as you make this important decision for your family.
There is no "right answer": Making the decision to stay together for the children or separate is one of the toughest ones you will tackle in your life. Some experts say that an unhappy household is negative for the children in the family and teaches them unhealthy ways of dealing with conflict. Others maintain that keeping the family intact is critical to the children (as long as parents can be civil to one another). The bottom line is that this is an individual choice for each family with many potential positives and negatives. You must decide what is best for your family.
Respect is key: Whether you decide to stay together for the sake of the children or separate, remember that being civil and respectful to your partner is crucial and imperative. This means not talking negatively to your children about your spouse, and removing yourself and your children from a potentially violent or abusive situation.
Keep things in perspective: Remember that marriage (and divorce) are extremely hard. Marriage takes work and relationships go through various phases, sometimes positive and other times negative. Divorce means that financial assets and debts are split, your home may need to be sold and your kids may feel uprooted and unsettled for a long period of time. Try to think about the long term implications of your decision.
You know your kids best: You can read countless books and articles about what is best for children — staying together or divorce — but you truly have the best sense of how your children will respond. You are the best judge of the overall impact a divorce will have on them.
Get support for everyone: Support is key no matter what you and your partner decide. You may want to seek marriage therapy, family therapy or mediation services to help make sense of your unique situation and help you think through all of the steps involved in separating and/or staying together.
Client-centered Process Helps You Find The Best Answer For You
AMS Mediation provides superior professional divorce and parenting services which are efficient, effective, respectful, informative, and non-judgmental. Our team can provide your family with support and strategies for making the best decision for your family. Give us a call at 1.952.252.1492 for more information or to schedule a time for a free consultation.