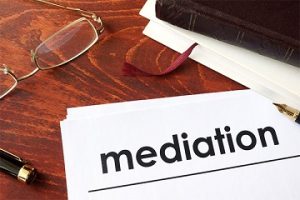 Once you have decided to take steps to end your marriage, you likely have already been down a very long and difficult road. Unfortunately, for couples who go through litigation, you can expect the divorce process to take many more months. However, mediation is an option for couples who are looking to move the process forward more quickly. Here is an overview of a basic timeline to expect when you use divorce mediation to settle the terms of your divorce:
Schedule a Free Consultation: It is important to find a mediator that connects with you, that you and your ex feel you can trust and be honest with. AMS Mediation offers a free consultation to give you the opportunity to meet our team and determine if we are a good fit for your situation.
Schedule Mediation Sessions: Most divorces can be settled in 3-4 mediation sessions over the course of 6-8 weeks. You can expect each of these mediation sessions to last 2-3 hours and should be scheduled about 2-3 weeks apart. We also offer in person and virtual mediation sessions to meet a wide variety of scheduling needs. During these sessions, you will be able to find resolution to all outstanding issues including child custody, dividing your joint property and spousal maintenance and child support.
Filing Your Documents: The last step in the divorce process is to file your documents with the court. Processing generally takes the court 1-8 weeks. Once this is completed, your divorce will be final.
Benefits Of Divorce Mediation
In addition to a faster divorce process, divorce mediation also has many other benefits. It is far less expensive than a court battle and is less adversarial as well. It is a process that can set the tone for future interactions, even if your marriage has been characterized by conflict. Finally, divorce mediation generally produces the same (if not even better) results. These are some of the reasons that the Minnesota courts recommend and encourage all couples to try mediation before litigation (unless you have a history of domestic violence).
AMS Mediation has extensive experience helping families navigate the divorce process efficiently and with great compassion. Divorce is one of the most difficult of all life events, on you, your spouse and your kids. Mediation is a way to minimize additional stress by prolonging the process. For more information about our mediation services or to schedule a time for a free consultation to begin the process, give us a call at 952-252-1492.