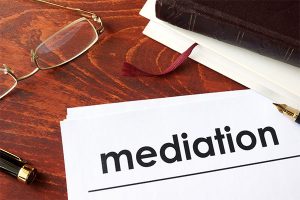 The threat of the spread of COVID-19 has pushed many couples that are seeking a divorce to pursue non-litigation options to settle the issues between them. The pandemic has caused many significant delays in the Minnesota court system, with backlogs and concerns about in-person meetings. Divorce mediation is an excellent and effective way to resolve the terms of a divorce without litigation. Here are just a few of the benefits of choosing mediation during this uncertain time:
1. No contact meetings: Given the importance of social distancing to slow the spread of COVID-19, in person meetings are not recommended at this time. AMS Mediation now offers virtual mediation sessions to allow you to resolve the major issues in your divorce without having to come in close contact. All you need is an internet connection and we can facilitate online mediation sessions to allow you to resolve the terms of your divorce.
2. Flexible scheduling: Mediation sessions can be scheduled at your convenience, without having to rely on the court schedule and the schedule of your attorney and a judge. Right now, there is a significant delay in scheduling in the courts, so mediation can be a great way to move forward more quickly.
3. Conserve financial resources: Mediation is much less expensive than litigation, often saving couples thousands of dollars during the process. This can be extremely helpful during a divorce during COVID-19, when finances are unusually strained. One of the goals of mediation is to come up with a fair and equitable division of property, assets and debts, so that you can begin to put the financial pieces of your new life together.
4. Relaxed process: Mediation is much more relaxed and less stressful than litigation. You are empowered to make decisions for your future, without relying on the courts and a judge to make those decisions for you. With virtual mediation sessions, you can settle the terms of your divorce from the comfort of your own home.
5. Easier for your children: If you share children, mediation can lay a strong foundation for future interactions with your ex. The mediation process is collaborative – and shows your kids that you can work together. In addition, you can continue to work with a mediator long after your divorce is final when other issues come up related to co-parenting.
AMS Mediation specializes in helping families find the best possible solutions for setting their divorce without litigation. We understand that divorce can be especially challenging, so we focus on compromise, collaboration and support. In most cases, this produces results that work well for the entire family. For more information about our non-litigation options for divorce, call 952-252-1492.