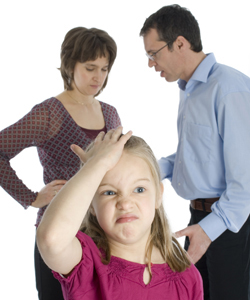 AMS Mediation of Dakota County, a Minnesota Parenting Time Expeditor, offers a wide variety of strong mediation support services.  Among the most important for couples who have children and have gone through a divorce is the Parenting Time Expeditor (PTE), which is a service that may be either appointed by a court or chosen by mutual agreement by the members of the divorced couple.  The goal of the Parenting Time Expeditor is to help divorced parents come to an agreement about issues pertaining to how much time each parent spends with their children after the finalization of their divorce.
Minnesota Parenting Time Expeditor
The purpose of the Parenting Time Expeditor, according to the 2015 Minnesota Statutes, is "to resolve parenting time disputes by enforcing, interpreting, clarifying, and addressing circumstances not specifically addressed by an existing parenting time order and, if appropriate, to make a determination as to whether the existing parenting time order has been violated.  A parenting time expeditor may be appointed to resolve a one-time parenting dispute or to provide ongoing parenting time dispute resolution services." (518.1751 PARENTING TIME DISPUTE RESOLUTION, Subd. 1b, Purpose, definitions.)
In other words, if you are in some kind of disagreement with your former spouse as to the amount of time you are each spending with your child or children, and you do not wish to seek resolution via the more time-consuming and expensive court system, you can reach resolution by employing a Parenting Time Expeditor.  AMS Mediation of Dakota County, Minnesota, can help you and your former spouse resolve any outstanding issues with greater efficiency, timeliness, and cost-control.  Moreover, AMS is committed to providing a service that minimizes negative interaction surrounding the issues and also minimizes the negative impact on your children.  AMS is well-renowned for its commitment to fairness and respect for all people involved in conflict, regardless of its nature.  But when it comes to the welfare of children, especially children whose parents have divorced, AMS Mediation works diligently to ensure that fairness is prioritized so that resolution can be as harmonious as possible.
Trusted Parenting Time Expeditor (PTE) Dakota County
As a Parenting Time Expeditor, AMS Mediation can either facilitate a mutually agreed upon solution by the divorced couple or render a legally binding decision if the couple cannot reach agreement among themselves.  The goal of mediation, of course, is always to create the greatest amount of satisfaction among the participants as is possible.  But we all know that conflict can be unpredictable, especially when we try to manage it ourselves.  When it comes to determining the amount of time divorced parents spend with their children, it may be necessary to employ a mutually agreed upon third-party to facilitate the fairest possible resolution.  And there are no better Parenting Time Expeditors out there than AMS Mediation.  Call 952-252-1492 for more information.