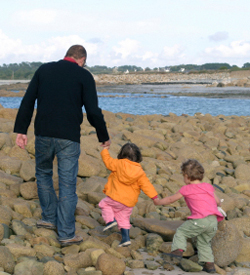 Making the final decision to divorce is extremely painful and difficult, especially if you are a parent and share children with your soon to be ex-spouse. After all, you are making a decision that not only will change your life significantly, but this decision will also alter the lives of your children. The idea that you may not see your children each and every day is hard for you as well as your kids. When it comes to making the important decisions about your divorce, it is easy to be overwhelmed with emotion and have trouble determining the best possible next steps. The experienced team at AMS Mediation offers parenting mediation services that can help make decisions about your divorce (and after divorce) that continue to put your children first.
Parenting mediation services offer many benefits over traditional litigation including:
● Saving money: Court battles are costly; you can expect to spend less on mediation and reduce the stress of the process as well. Parenting mediation is a cooperative approach to settling important issues such as custody and determination of child support.
● Less time: Mediation generally takes 2-4 two hour sessions to settle many complex topics, while litigation can take months or even longer. As a result, parenting mediation also allows you and your family to move forward with your lives more quickly.
● Being confidential and flexible: Parenting mediation is entirely confidential and keeps you from having to provide lengthy and intimately personal testimony in court. Your parenting plan can be more flexible as well with solutions that may be very unique to your family.
● Making your own decisions: Rather than putting the decisions about child custody and child support into the hands of a judge, parenting mediation empowers you and your divorcing spouse to make these significant decisions for your family.
● Post-divorce support: Because you share children, signing your divorce papers is not the end of your relationship with your ex-spouse. Things will come up related to co-parenting after your divorce and parenting mediation is an ideal tool for resolving issues post-divorce.
Experienced Parenting Mediation Services
Amber Serwat of AMS Mediation specializes in parenting mediation and can help your family navigate the divorce process and keep your co-parenting relationship on track after your divorce is final. One of her specific areas of focus in developing successful parenting partnerships that allow you, your ex-spouse and your children to move forward in the healthiest and most positive way possible. For more information or to schedule a free consultation with Amber, call AMS Mediation at 952-252-1492.