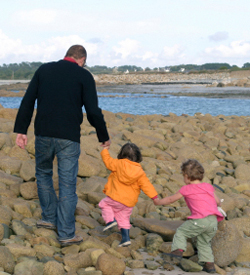 If you ask those who have been through a divorce what was the most helpful thing through the process, you will likely hear the word "support". This support can come in many forms including from family, friends, co-workers, spiritual leaders and professionals. For most individuals navigating a divorce, support actually needs to come from a variety of places. AMS Mediation understands the difficulty and complexity of divorce and offers professional support for clients during a divorce. Our staff is ready to answer any questions you may have regarding the divorce process. Pre divorce, post divorce, divorce coaching child custody or visitation are just some of what we cover.
Divorce Parenting Support Services In MN
Amber Serwat has dedicated her entire career to helping couples through their difficult divorce. She has been through a divorce herself and has successfully resolved issues related to custody, parenting time and co-parenting, in addition to many other difficult issues. Amber understands that professional support can be the difference for some couples to resolve their divorce amicably. Amber offers divorce mediation services, which offer families a way to settle the terms of their divorce without costly and contentious litigation. In addition, Amber offers parenting support services to help with issues of custody. She can serve as a divorce mediator, parenting consultant, and parenting time expeditor. In addition, she can conduct early neutral evaluations to help give you a sense of how your case may play out in court.
Amber's support will empower you to make sound and practical decisions about your divorce. You are the best judge of how your divorce settlement should play out and Amber respects this. Instead of leaving these all important decisions in the hands of a judge, Amber's support will give you the confidence you need to take these important steps forward. Her support services are also much more affordable than litigation. Mediation can take a fraction of the time as well, and you can expect to resolve issues including how to equitably divide your property, how to develop a parenting plan that keeps your children the priority, and how to decide whether spousal maintenance or child support is necessary in your case.
Experienced Minnesota Divorce Mediator
Amber and the team at AMS Mediation hopes that you will consider them one source of support during your divorce. All of her services are virtual at this time. She can work with you via phone and/or video conferencing and help you find your footing and take the next step toward your future. For more information about Amber's divorce mediation and parenting support services, call 952-252-1492 to schedule a time to talk.