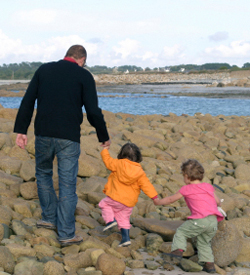 Child custody evaluations occur frequently when custody is in question for divorcing couples, and AMS Mediation is uniquely qualified to help you through this process. Even though custody evaluations are used to ensure that the needs of your children are met, the process can still produce stress and anxiety for divorcing parents. In general, a child custody evaluation is a process by which a mental health professional evaluates the parents and children, and then makes a recommendation to the court regarding custody and visitation.
Child custody evaluations can be deemed necessary for many reasons. The most common is to help divorcing parents reach agreement on the details of their custody agreement. Custody evaluations can also be ordered when one or both parents believe that their current custody agreement is not meeting the needs of their children. In each case, a family court judge will order a child custody evaluation to begin.
It is important to understand that the mental health professional conducting the evaluation is simply trying to determine what would be in the best interest of your children. They will typically use the following guidelines to make a determination:
Conduct as many interviews with each parent as is necessary to provide complete information.
Conduct multiple interviews with the children impacted by the divorce.
Observe each parent interact with the children either in the family's home or the professional's office.
Conduct interviews with others involved with the family, including teachers and healthcare providers.
Conduct psychological testing on members of the family.
Review previous court and legal activity pertaining to the divorce and custody agreement.
The evaluator will generate a report based on the information that is gathered from these observations. The report is then submitted to the judge presiding over the case.
Preparing for a Child Custody Evaluation
It is important for parents to prepare for their child custody evaluation. Going through the child custody evaluation can be especially hard for parents. The stress of the experience can have an impact on even the best parents, so it is important to understand how you can minimize your stress ahead of time so that you can represent yourself as accurately as possible.  Below are some recommendations:
Cooperate with the evaluator. You may oppose the child custody evaluation, but it is still important to cooperate so that the evaluator does not translate your opposition negatively .
Treat the child-custody evaluation as a professional meeting. Make sure you arrive on time or early.  Dress well and above all respond to questions honestly.
Make sure you are prepared and organized. The evaluator will most likely ask you for such things as your case documents and providing them will indicate that you are taking the process seriously.
Check your own motivations. If you are committed to your children's welfare, the evaluator will know it, and the process is most likely to proceed smoothly.  But if you are out to settle a score with your divorcing spouse, the evaluator may well interpret your intentions to be against the best interests of your children.
If you would like help with your Child-Custody Evaluation, do not hesitate to contact AMS Mediation at 952.252.1492.