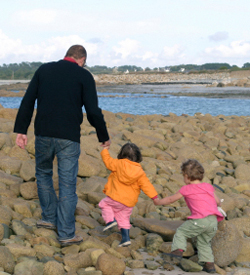 Just when you thought that everything has settled after your divorce, the going gets tough again when you experience difficulties and struggles around a blended family. Unlike the olden days, people that get divorced are highly likely to re-marry at some point in their life. This is boosting the amount of blended families that we have in this country, as many individuals have children during their first marriage. There are many obstacles to tackle when blending families together including adjusting to new schedules, gaining trust, blending discipline habits and intermingling step brothers/sisters. It is important to remember that there is light at the end of the tunnel, and many blended families become very close with time. If you are in the beginning stages of a blended family, you don't have to tackle this alone. If you reside near Burnsville, MN, consider teaming up with AMS Mediation to help provide parenting services that can help you get through the tough times of blending your family.
Guidance From AMS Mediation
At AMS Mediation, we have seen how difficult blending families can be first hand. Our founder, Amber M. Serwat, is a divorced parent and is also a step-parent. Through her experience with blending her own family, she is fully aware of the tough times that may arise, and she can help provide the support to get you over the hump. Some of our parenting guidance that you may benefit from include:
Parenting Consultant
Parenting Coach
Parenting Education
Parenting Mediation
Start Strong
Getting through the beginning stages of a blended family tends to be the toughest part. In fact, it can take multiple years for a blended family to truly adjust to their new lifestyle. Some tips to consider at the beginning of your transition into a blended family include:
Act Like A Parent – As a parent, your days as the child's babysitter or friend are in the past. It is important to establish your role as a parent from the start so that the children will gain respect for you as an authoritative figure in their life. Consistency is key when it comes to blended families, so it is important for both parents to be on the same page.
Share Love – Focus on connecting with your newly acquired stepchildren. Schedule regular activities that you do as a family each week. Get in the habit of doing things like reading a story at night or shooting baskets a few times a week. Have some fun creating memories with your new family!
Don't Harp on the Past – Your ex-spouse may be a headache that you are still dealing with, however don't bring your blended family into it. Keep your blended families home peaceful and free of any disturbances regarding your ex-spouse.
Focus on the Kids – Stepsiblings can be tough on each other sometimes. If the kids are struggling to blend and get along it is important to be persistent with them. Make time with just your original children, but also be sure to do activities where everyone is involved. Making sure that everyone is treated equally is very important if you want your children to get along.
There is no perfect way to create a blended family. There will be tough times and great times. Learn from your mistakes and cherish the time that you have as a family. If you are just beginning this journey as a blended family in Burnsville, MN, AMS Mediation is a great resource to consider. By calling (952) 252-1492, our staff can provide the support that you need while adjusting to your new lifestyle.